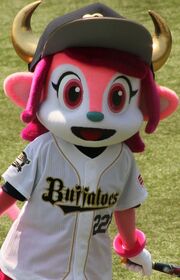 Buffalo Bell (バファローベル, Bafarō Beru) is the sister of Buffalo Bull, as well as the second mascot for the Orix Buffaloes. She has been nicknamed BuBell, or Bell-chan by fans.
Bell has probably had the most commercial success out of all Japanese mascots, as she has a very large amount of merchandise, including a photo album and a PVC figurine.
Team Information - History
Edit
After years of playing at Nishinomiya Stadium, the Orix BlueWave moved to the 35,000 seat Green Stadium of Kobe in 1991. It was later called Yahoo! BB, the first stadium with a naming rights sponsor, and is now Hotto Motto Stadium. It is located on the edge of Sogoundo Park, and green trees surround the natural grass field with Major League dimensions, and it offers a relaxing baseball atmosphere.
Upon the merging of Blue Wave with the Kintetsu Buffaloes in 2005, the new team was called the Orix Buffaloes. The Kyocera Osaka Dome is its home park, with many games played at Hotto Motto Stadium.
Merchandise
Edit
Following Buffalo Bell's debut in 2011, merchandise for the Orix Buffaloes have tripled in sales. With merchandise ranging from pens and stamps, to bats and key chains, Buffalo Bell has done exceedingly well with merchandising to fans!
What has caused such popularity? Who knows. Maybe it's her cute pink fur, adorable design or her uniform, but people absolutely adore Buffalo Bell either way.
Merchandise
Edit
Buffalo Bell made a cameo appearance (as a zombie) in an episode of the anime Space Dandy.