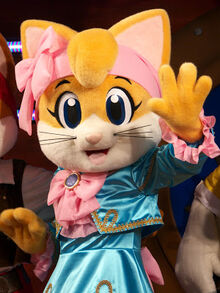 Luna (ルナ) is one of the four mascot of the Japanese amusement park Lagunasia. She was introduced on 2012, the same year the park announced their 10th anniversary. She the sister of Gato, although, it is likely that she is also her boyfriend.

Name: Luna
Species: Cat
Gender: Female
Personality: Gentle hearted, friendly, a little bit tomboyish and curious.
Specialties: Song
Likes: Song, Poetry, Jewelry, Sweets, & Watching the sky at night.
She is the first female mascot ever introduced to Lagunasia.