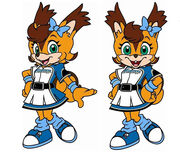 Polly Polaris
(ポリーポラリス) is one of the three current mascots for the Hokkaido Nippon-Ham Fighters baseball team. She was introduced on 2012 November 23, the same time the team announced their 10th season.
Name: Polly Polaris (ポリーポラリス)
Species: Squirrel
Gender: Female
Origin: Forest in Hokkaido, in an area that has a good view of Polaris (North Star).
Hobbies: Playing with B.B and her other forest friends, collecting nuts, star-gazing.
Personality: Tomboyish, a little mischievous, yet kind-hearted.
Strengths: Cheerful
Weaknesses: Too energetic, plays pranks one too many times.
Charm Point: Green eyes, pointy ears, and bushy tail.
Skills: dancing, running, waking up early, baking
Likes: acorns, walnuts
Dreams: to bring smiles to everyone's faces with her dancing.
Galleries
Edit
Group Shots
Edit
She is the first female mascot ever introduced to the Fighters.