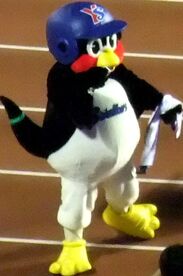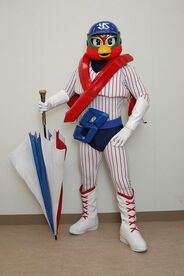 Tsubakuro (つば九郎) or Tsuba-kun is the wily, rude and silly main mascot for the Tokyo Yakult Swallows. He has a younger sister named Tsubami, who is just as rude and self-centered as her older brother. Even though both mascots are quite the package, they are dearly loved by their fans.
As of June 2014, another Swallows sibling named Torukuya has joined the mascot family. He strongly resembles a luchador. He always carries a parasol, and sports a bottle of the beverage "Yakult" that he wears strapped to his back like a backpack. Much more nice and quiet when compared to his siblings, he will loiter around foul territory, waving and posing to fans.
Team Information - History
Edit
The Tokyo Yakult Swallows are a professional baseball team in Japan's Central League. The Swallows are named after their corporate owners, the Yakult Corporation. From 1950 to 1965, the team was owned by the former Japanese National Railways (Kokutetsu (国鉄) and called the Kokutetsu Swallows; the team was then owned by the newspaper Sankei Shimbun from 1965 to 1968 and called the Sankei Atoms. Yakult purchased the team in 1970 and restored its original Swallows name in 1974. Then it was renamed the Tokyo Yakult Swallows in 2006.